Blog Party Spotlight!~Organize and Decorate Everything
Hey there everyone, this is Doug the Master of Ceremonies here at It's a Blog Party. We want to thank all of the wonderfully talented bloggers who have submitted there posts here at Blog Party. It is our mission to help promote your blog and see it grow.
Today we'd like to introduce those of you who have not yet had the opportunity to one of our favorite bloggers.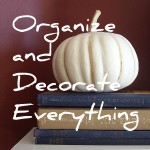 Leanne over at Organize and Decorate Everything. She absolutely amazes us with her amazing decorating talents, she has a real knack for it.
Another passion she has is organization, and she shows you can do it and make it look good at the same time.
Head on over and tell her hi for us here at It's a Blog Party.
Now, head on over to the parties and share all your great ideas. You guys have a great day and we'll be back tomorrow with another Blog Party Spotlight!
… Hey, don't forget the All-Halloween Bash!!!
Psss…don't forget! Our parties are ALL open now, add any link to the pages!
Tags: Blog Party Spotlight