Days of Thanksgiving Favorites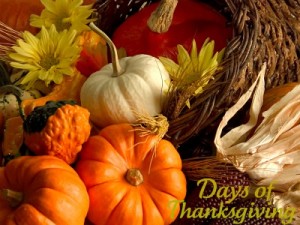 It's A Blog Party was started to celebrate bloggers and all that they have to offer!  My husband, Doug and I, share the duties of "Celebrating Blogland". Doug has been helping me ALOT with it lately, and has taken over all of the posting! Thanks honey!!
During the last few weeks, we hosted a Days of Thanksgiving Party, and had 120 bloggers add their awesome Thanksgiving recipes, decorating and other ideas. As part of the feature during holiday parties, we have voting enabled and let the readers vote for their favorites and then we highlight those favorites.
There was an overwhelming response to the #1 favorite! Tammy from Not Just Paper and Glue, had 62 votes and she was entry #119! Way to go Tammy!!
Let me explain a little how that happened and why it's a great thing…Tammy had a line in her post asking her readers to visit the Days of Thanksgiving Party and vote for her entry. Why is that good?
It's good for Tammy because she has now been seen by almost 3000 Hoosier Homemade readers and also the Blog Party readers
and it's good for Blog Party because then we grow as well
It's all part of the way we help each other to grow our blogs…it's savvyblogging!
Now for the other favorites, just like our Halloween Bash Favorites, there was 1 blogger that had several entries, and myself that had a couple. Since we are all about celebrating bloggers, I still wanted to feature 10 blogs, excluding my own (cause that's not really fair)…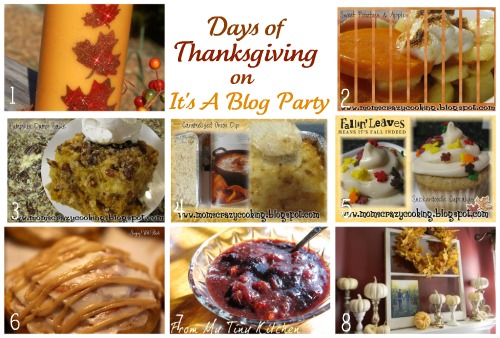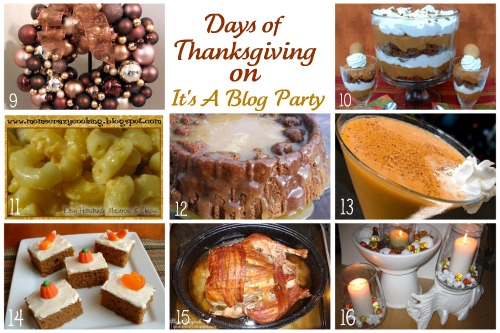 Every Monday, It's A Blog Party opens the parties on seperate pages for you to link up your posts…
Show Me How is for crafts, decorating and DIY projects
Delicious Dishes is for recipes and food
Say "Cheese" is for photography and Wordless Wednesday
Party Time-Giveways is for you too add your current giveaways
Share Your Favorites is to share your favorite finds from the week or your favorite posts
We will be starting the Holiday Party on Friday November 26th, so get your Christmas and Holiday posts ready to link up! And remember, there will be voting again, and you might just be in the Top 10!!
Tags: Favorite posts, Thanksgiving